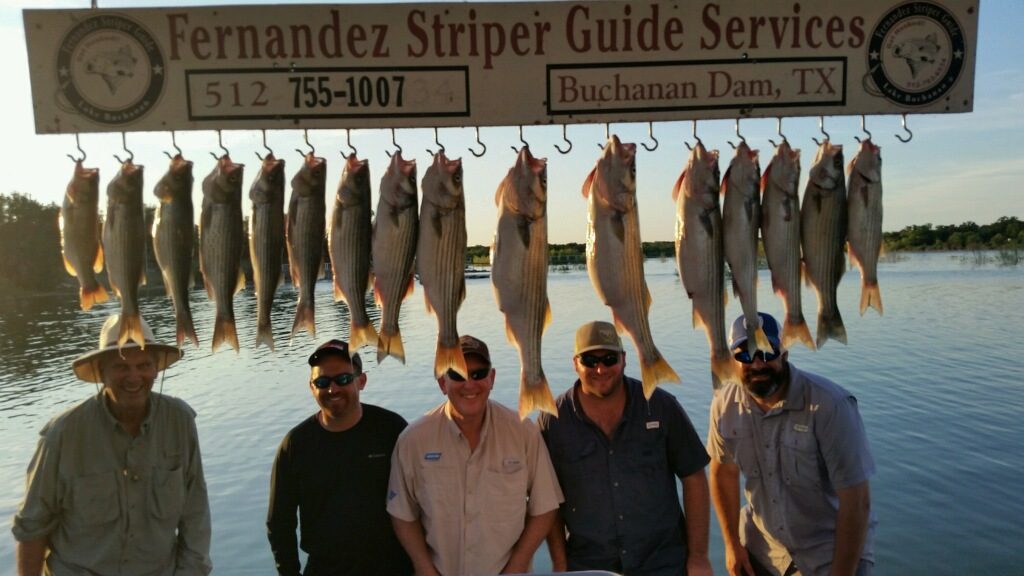 Live Bait Fishing Techniques
In the springtime when the water temperature gets right we sometimes "Flat-line" in shallow water. Flat-lining is basically trolling live shad very slowly in shallow water. Normally the water temperature has to reach at least the low 60s before shad and larger fish end up on the wind-blown Banks. Then we put out a spread of rods, trim our Motors up, and fish in water as shallow as 3 feet to catch stripers.
Other times of the year when the stripers, hybrids and white bass are not only schooling, but very actively feeding in deeper waters, we will anchor on top of underwater structures then lower live shad on a hook with a sinker to a specific depth. Then we wait until the school starts to feed. The action can get extremely fast and furious lot of the time when this happens and every on catches fish as fast as we can boat them and re bait our hooks.
Free lining bait on the surface only works in very specific circumstances and at specific times and conditions on the lake. When these conditions are right, a live shad on just a hook is cast out and allowed to swim free and given slack line. The angler waits until the stripers grab the bait, and then let it take some line before tightening up to set the hook. Then the fight begins. This can be a ton of fun if the big stripers happen to be the ones biting.
Contact Capt. Fermin Fernandez of Fernandez Fishing Guide Service now to be your Lake Buchanan Fishing Guide.