Inks Lake
Inks Lake is situated close to Burnet, TX on the Colorado River in the 1,200 acre Inks Lake State Park. The 831 acre lake is 60 feet deep, just over 4 miles long and approx. 3,000 feet at its widest point. There are some great hiking trails, wonderful campsites on the waterfront, and mini cabins available in the state park. This lake offers clear to slightly stained water with no significant amount of aquatic vegetation. There is minimal fishing pressure on Inks Lake. The fishing is fair to good with days when the fishing is absolutely amazing. Fishing on Inks Lake offers many different kinds of structure and cover for fisherman to fish. There are many rocky banks, ledges, and rock piles along the shoreline – in addition to docks of all kinds. In order to attract fish, brush piles and a network of some ten gravel beds have also been placed in Inks Lake.
Inks Lake fishing has seen its share of trophy fish. In 1992, a striper was caught that weighed over 37 Lbs. A striper can often be predictable on a hot day in Texas, because they prefer the cooler water. Striped bass move to the deeper end of the lake when the water heats up. This is why so many fishermen pay so much money to purchase an electronic fish finder. These days, depth finders are state of the art and will provide fishermen with a treasure trove of information. They provide the water temperature, indicate single fish, as well as the depth that they are at. Fishermen can be more efficient covering a lot more water when using a good fish finder. This lake has a healthy population of stripers, hybrids, white bass, black bass, catfish and drum.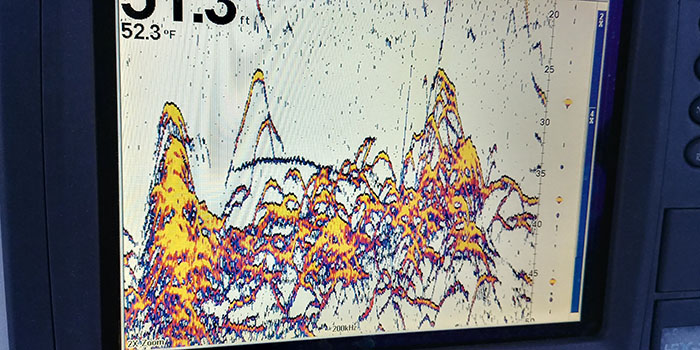 Lots of fish on graph!
In the summer time, a striper will fight hard. A striper doesn't put up much fight if the water is really cold, although they like cold water.
Fishermen can catch schooling stripers in the range of three pounds to five pounds when the water temperature is in the middle 50 degree. When the water temperature is in the middle 60 degree range and you see baitfish suspending over the striper schools, they will come to strike, be larger, and put up a much better fight. The artificial baits for a striper in this lake that is recommended by many a fishing guide include soft plastic baits, deep running spinnerbaits, soft jerkbaits, tubebaits, jiggling and trolling spoons, swimming baits, and crankbaits. The absolute best bait for a striper though is live shad. Sometimes freshly shelled clams, eel, bloodworms, live minnows, mullet, fresh bunker chunks, and live bunker will catch a striper also along with catfish etc.
Although smart fishermen use an Inks Lake fishing guide to catch fish, these fish can be caught by your average fisherman. For fishing on Inks Lake, fishermen should use an appropriate length medium heavy rod matched to its reel. On the reel, spool 15 to 20 pound test of fishing line. In order to handle long runs after hooking the fish and long casts, a minimum of 250 to 300 yards of line should be spooled onto the reel. Approximately 2-3 ft. of leader and a barrel swivel should be tied onto the end. Because snap swivels might bend open as a result of the weight of a very large fish, they should be avoided. The leader should be at least 20 pound test.
Using an improved snell knot or clinch knot, a bait holder or circle hook should be attached to the end of the leader. During fishing, snelled knots will greatly decrease the number of breaks in the knot and will provide exceptional strength. Usually the size of the hook should be around a 4/0, but hook size is also dependent on the type and size of bait used. The type of bait that will best attract stripers or other fish  depends on the time of the day and time of the season or year.
Contact Capt. Fermin Fernandez of Fernandez Fishing Guide Service now to be your Lake Buchanan Fishing Guide.